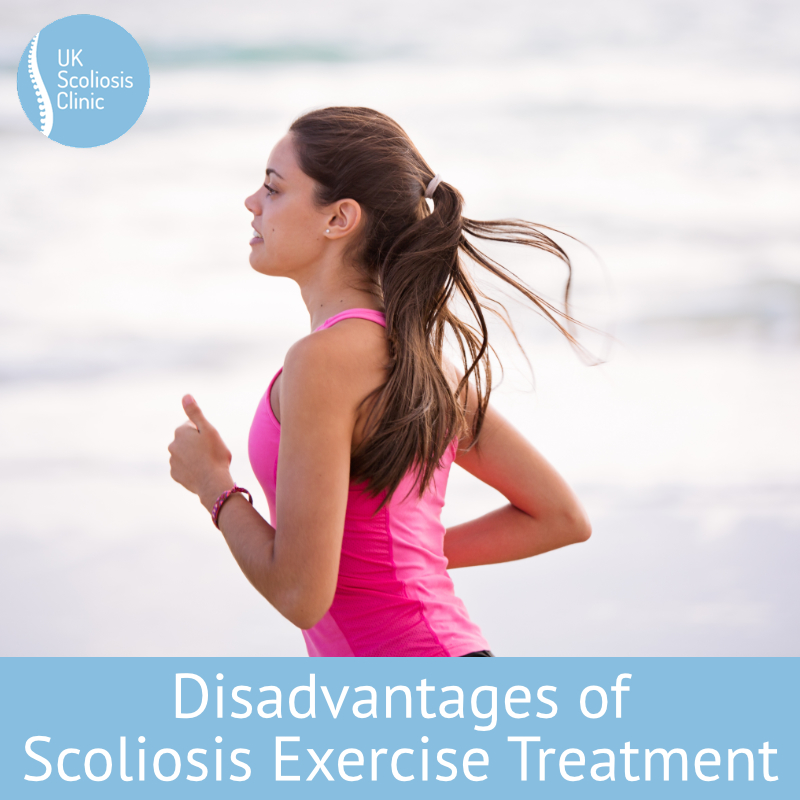 While there are several non-surgical treatment options available for scoliosis, scoliosis-specific exercise is a popular method that, like bracing, is gaining popularity. However, like any treatment approach scoliosis specific exercise also has its disadvantages that need to be considered.
Scoliosis Specific Exercise
Scoliosis-specific exercise is a highly specialised area of physiotherapy-based approaches to treating musculoskeletal conditions – unlike normal forms of physiotherapy, it does not focus on symmetrical, therapeutic movements, but rather attempts to use a person's own body and strength to oppose a Scoliotic curve. Scoliosis-specific exercise – specifically the Schroth method, is the oldest approach to scoliosis treatment and has now been practised for over a hundred years. There's no question that exercise-based approaches can indeed stop the development of Scoliosis and reduce it in some cases[1] – so it's well worth considering. However, there are some disadvantages:
Limited impact on larger curves
One of the biggest disadvantages of scoliosis-specific exercise is the lack of scientific evidence supporting its effectiveness in larger curves. Most studies conclude that bracing is a better approach for larger curves and is a faster way to correct scoliosis overall. Some studies do show that exercise approaches may be effective in slowing the growth of a curve[2], but what's needed (especially in a more significant case) is correction – not just slowing.  That being said, it does seem that combining an exercise-based approach with bracing is more effective than bracing alone.[3]
Requires commitment and consistency
Like any exercise program, Scoliosis specific exercise requires commitment and consistency. The exercises must be performed regularly to see any benefits, and this can be challenging for some patients – especially young children. Some patients may find it difficult to maintain the same level of motivation over a prolonged period. This can be especially challenging for people who are already struggling with chronic pain, making it harder for them to keep up with the exercises. Sadly without consistency, exercise-based approaches will not work.
Requires supervision
Scoliosis-specific exercise programs require supervision to be truly effective – like bracing, a treatment plan needs constant monitoring and adjustment to have the best possible impact. This can be a disadvantage for people who live in remote areas or do not have easy access to a scoliosis specialist. Patients who attempt to perform exercises without proper guidance may inadvertently worsen their condition. This is why it is crucial to seek professional advice and maintain it while using exercise-based approaches to treatment.
Can lead to muscle imbalances
Scoliosis-specific exercise focuses on strengthening specific muscles to correct the curvature of the spine. However, this can lead to muscle imbalances, where some muscles become overdeveloped while others remain underdeveloped. Muscle imbalances can cause pain and discomfort, and in severe cases, can lead to other medical conditions such as joint problems. When a program is properly monitored by a professional this shouldn't be a problem – but it's a risk for anyone who does not have the proper guidance.
Does not address underlying issues
While exercise-based approaches may be effective in reducing the curvature of the spine and alleviating pain in some cases, it does not address the underlying issues that led to scoliosis. In some cases, scoliosis may be caused by underlying medical conditions such as neuromuscular disorders or genetic factors, but the typical idiopathic scoliosis seen in teenagers and young people cannot be "cured" with exercise. To be fair, it cannot be "cured" with bracing either – the only way to truly manage the condition is to maintain the spine in as straight an alignment as possible until skeletal maturity is reached. Many professionals view that this is easier to do with bracing than exercise, because of the cost and effort involved in 10-15 years of exercise monitoring.
Is Scoliosis specific exercise right for me?
Scoliosis-specific exercise can be a valuable part of an overall treatment plan and may be the right option for some smaller curves, or stable curves in adults. This being said, it has its disadvantages, and patients should carefully consider these before deciding on this treatment option alone.
[1] 'SEAS (Scientific Exercises Approach to Scoliosis): a modern and effective evidence based approach to physiotherapic specific scoliosis exercises'
Romano M, Negrini Am Parzini S, Tavernaro M, Zaina F, Donzelli S and Negrini S 2015, Scoliosis 2015 10:3, DOI: 10.1186/s13013-014-0027-2
[2] 'Scoliosis-Specific exercises can reduce the progression of severe curves in adult idiopathic scoliosis: a long-term cohort study'
Negrini A, Donzelli S, Negrini M, Negrini S, Romano M, and Zaina F 2015,, Scoliosis Jul 11 10:20
[3] 'The effectiveness of combined bracing and exercise in adolescent idiopathic scoliosis based on SRS and SOSORT criteira: a prospective study'
Negrini S, Donzelli S, Lusini M, Minnella S and Zaina F 2014, BMC Musculoskelet Disord. 2014; 15: 263, Published online 2014 Aug 6. doi:  10.1186/1471-2474-15-263