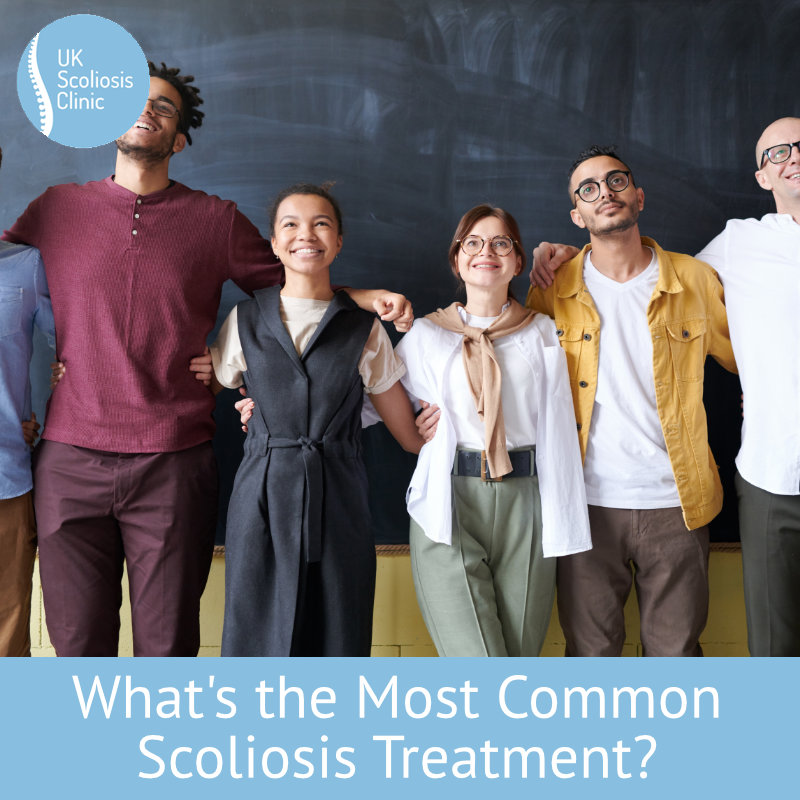 If you look around online, you'll quickly see that lots of people are looking for advice on what the most common treatment for scoliosis is – in fact, "what is the most common treatment for scoliosis" is one of the most popular asked questions on google search!
The problem with "common" treatment as a concept…
We understand why this is – but for us, this question speaks to a real problem with most people's understanding of Scoliosis! It's essential to understand that Scoliosis is a highly individualised condition – yes, it has common hallmarks whenever it is present, but almost every aspect of the condition will, in fact, vary between patients. Because of this, treating scoliosis successfully requires a treatment approach which is personalised, rather than common or generic.
Usually, it's not even enough to describe a broad treatment pathway when treating a Scoliosis case – simply saying that an exercise-based approach is used, for example, does not mean much – since a scoliosis specific exercise routine will be (or should be!) designed from the ground up to counteract the specific scoliosis which the patient is experiencing.
Furthermore, it's rare that only one approach will be used in treating scoliosis. Surgery is a possible exception to this, but even in this case, most surgeons do recommend some form of physiotherapy post-surgery to speed recovery and promote health after the operation. It's therefore much more helpful to think about the possible components of scoliosis treatment and to speak to a scoliosis professional about your specific case and how a treatment plan can be put together.
Components of scoliosis treatment plans
With that said, let's look at a high level, at some of the most common options for treating scoliosis.
Wait and see
Wait and see used to be a common refrain amongst GP's encountering scoliosis cases – for many years, surgery was thought to be the only option for correcting scoliosis (it's now been shown that this is not the case), therefore the only real option was to watch a scoliosis case and see if it got bad enough to require surgery. It goes without saying that this is not a treatment, and today there is almost no circumstance where "wait and see" is truly a good approach.
Surgery
Spinal fusion surgery is the most common surgical treatment for severe scoliosis in adolescents. Using metal rods, hooks, screws, and wires (known as instrumentation), the procedure straightens the spine and solidifies the bone to prevent further abnormal curving. Such a procedure will stop scoliosis from progressing and can typically straighten the spine to a considerable degree. The main downside is the risk of complications from surgery as well as the longer-term issues associated with living with a fused spine. For those with large scoliotic curves, however, these issues are often far preferable to living with severe scoliosis.
Bracing
Scoliosis bracing has come a long way over the last 10-20 years. Once thought of as a way to potentially slow scoliosis progression, modern "over corrective" scoliosis braces can be effective in reducing and even totally eliminating scoliosis cases given the right conditions. For bracing to be effective, the patient typically needs to be young enough for their spine to remain flexible and have not yet reached spinal maturity. Luckily, this window aligns perfectly with the 10-15 age range where the majority of scoliosis cases are first spotted. Modern scoliosis braces are relatively comfortable to wear, low profile and effective when used as prescribed. Today, bracing is the best option for those with scoliosis cases over roughly 30 degrees and under 60 degrees. Larger curves may still be treated with bracing, but the degree of correction possible is likely to be less.
Exercise-based approaches
Also commonly used today, exercised based approaches utilise specialist disciplines within physiotherapy to allow a patient to actively oppose scoliosis with their own body – exercise-based approaches require commitment to show results, but can be effective in reducing smaller scoliotic curves when applied diligently. Exercise is very often used alongside bracing, as it has an especially noticeable effect on muscular strength and tends to oppose some of the muscular weakening which can occur with bracing.
Complementary approaches
There are many other complementary approaches which have been shown to have supportive benefits for scoliosis sufferers – these include disciplines such as massage, yoga or Pilates. None of these approaches have been shown to actively correct scoliosis, but they may play a valuable role in helping to reduce pain or discomfort associated with the condition.
Experimental methods  – more research required
Scoliosis treatment is an area where a great deal of research has been taking place recently, and there are a number of other approaches being investigated with a view to determining their effectiveness as scoliosis treatments. Some approaches, such as vibration-based therapy show promise in augmenting existing methodologies – at least one study has suggested that combining a vibration plate with scoliosis specific exercise may improve results.
Other areas not currently seen as effective treatments for scoliosis, such as chiropractic, are being actively investigated by organisations such as CLEAR. Indeed, some of these experiments have published promising results. Programmes such as CLEAR have not yet met the bar in terms of demonstrating efficacy for scoliosis treatment, but may do so in the future. At the UK Scoliosis Clinic, we stay on top of many developing methodologies and will be open to incorporating new ones if and when the literature supports this step.
Which scoliosis treatment is right for me?
This article is intended as a quick overview of some of the approaches which can go to make up the unique course of scoliosis treatment that all patients deserve. The critical thing is to find a clinic that has the breadth and depth of experience to provide the treatment which best fits you. At the UK Scoliosis clinic, we provide all of the non-surgical options listed above (except the experimental ones) and work closely with expert and highly respected spinal surgeons to refer those cases which would not benefit from non-surgical intervention.
For more information about any of these approaches, please browse our website and articles, or feel free to get in touch.