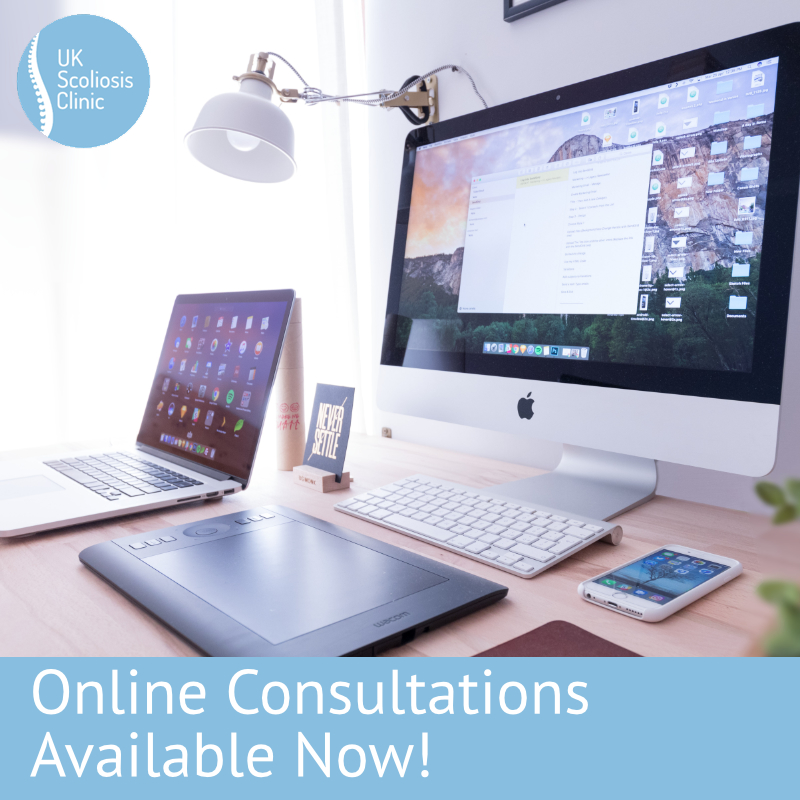 Get answers on Scoliosis- Fast, and from home.
If you have concerns about Scoliosis, perhaps after a screening or worry that you or a loved one may be developing Scoliosis, help form the UK Scoliosis Clinic is on hand when you need it. If you are unable to visit the clinic in person or want to get an initial opinion in advance, an online "telehealth" consultation could be a great option for you.
A Telehealth consultation can take place in your own home, wherever in the world you live – it's also a fantastic option for those who have other medical concerns, such as coronavirus, which may discourage them from traveling unless strictly necessary.
Scoliosis is a complex condition which develops differently in each patient, so an in-person appointment at the clinic is always required at the start of a treatment program – however, an online consultation is an excellent first step to discerning if Scoliosis is or isn't the cause of your problems. It is usually not possible to formally diagnose a new case of Scoliosis via a web consultation – however, if you already have X-rays we often can. At the end of your consultation, we will be able to provide you with a very strong indication of your likely diagnosis and how you might proceed to the best treatment options.
Online consultations are also an excellent way to quickly get a second opinion on a scoliosis case, which we strongly advise before embarking on a course of treatment.  In some instances, we may also recommend online consultation as a method of checking and updating exercise programs for those who are currently undergoing an exercise-based treatment plan.
As you would expect, the content of your online consultation will be held in the strictest confidence.
How does an online consultation work?
A telehealth consultation is much like a discussion on skype, or any other video conference system. For telehealth, we have to conform to strict guidelines around security and data handling but as a patient, your experience will be much the same as a normal chat.
To participate, you will need:
a laptop/ PC with built-in webcam and speakers
OR a laptop or computer with external webcam and speakers
OR an iPad/tablet device with webcam and speakers
a stable internet connection
a well-lit area with a clear wall/plain background
to wear clothes suitable for exercise or assessment
the webcam set up so your full posture can be seen on screen (from feet to top of head)
any prescribed exercise equipment ready for the session
if the consultation is related to a brace, have it ready
For those under 18, a parent or guardian must be present during the entirety of the consultation.
After your consultation
After your consultation you will receive a written report from Dr Irvine, detailing his observations on your case, recommendations for treatment (if required) and next steps.  If it is agreed that you would benefit from an in-person scoliosis consultation, we can arrange this for you at the earliest possible convenience.
Please note that our online consultation service is a "stand-alone" option, and there is absolutely no obligation to commit to a course of treatment at the UK Scoliosis Clinic after your consultation.
What does an online consultation cost?
Your online, private consultation with Dr Irvine is £120 for a 30 minute appointment.
Fees are payable in advance when you book your consultation. We accept all major credit /debit cards as well as bank transfer.
Book your online consultation
To book your scoliosis consultation please phone the clinic to arrange an appointment at a time which is convenient for you.