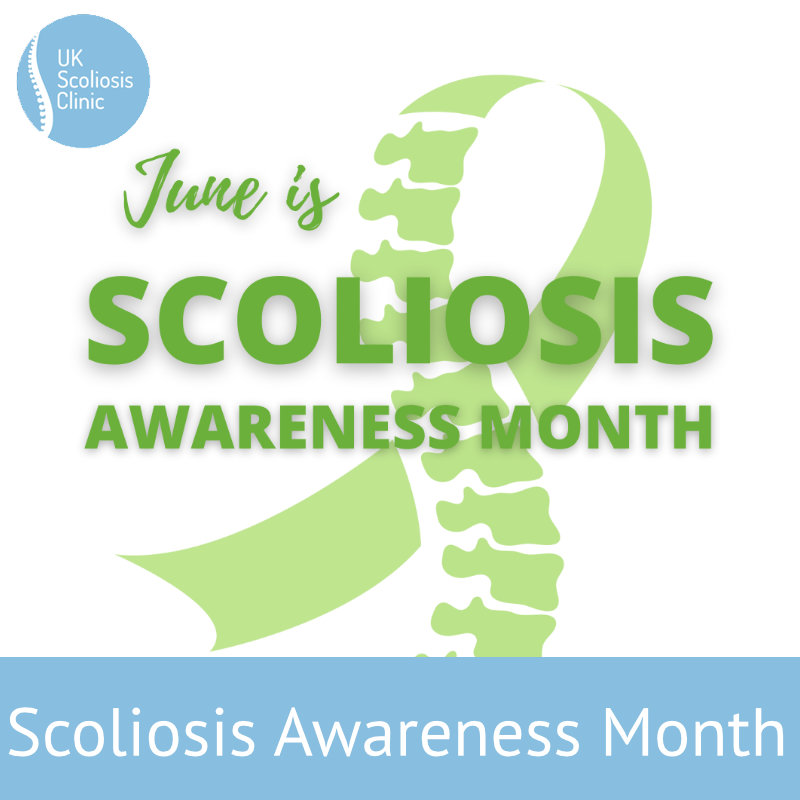 The UK Scoliosis Clinic recognizes June as Scoliosis Awareness Month – as usual, it's an important opportunity for us to reflect on the importance of ongoing developments in scoliosis treatment as well as to advocate for further research. Critically, scoliosis awareness month is an opportunity to raise awareness of scoliosis, and, the words of the scoliosis research society "Speak Up For Scoliosis"
What is Scoliosis?
Scoliosis is a condition that causes the spine to abnormally curve sideways. Although many people have not heard of the condition it is surprisingly common, impacting infants, adolescents and adults of all races, classes, and all genders. Despite this, adolescents (of which a majority are female) and those over 60 are the most commonly diagnosed and should be especially vigilant.
According to the Scoliosis Research Society, Approximately one out of every six children diagnosed with scoliosis will have a curve that requires active treatment, sometimes involving surgery. Early diagnosis is the key to taking important first steps to providing treatment that may prevent more serious problems. Today there are more non-surgical treatment options (such as bracing or exercise based therapy) than ever, but to have the best chance of success early detection is key.
What is Scoliosis awareness month?
Every June, National Scoliosis Awareness Month highlights the growing need for education, early detection and awareness about scoliosis and its prevalence.  The campaign also unites scoliosis patients, families, physicians, clinicians, institutions, and related businesses in collaborative grassroots networking throughout the month.
Around the world, Scoliosis screening as a public service is not uniformly provided – in the UK, there's no provision at all and in the US, on about two-thirds of states mandate or recommend scoliosis screening in schools – this means it is important that friends and family members learn to recognize the signs and symptoms of the condition and know that help is available. It is often parents or primary care providers who first identify the issue. Fortunately, an examination and X-ray can confirm the diagnosis and an expert can recommend treatment, if necessary.
About the UK Scoliosis Clinic
The UK Scoliosis Clinic is one of the UK's most well established specialist scoliosis clinics, we focus on non-surgical treatment of scoliosis in Children and Adults primarily through bracing with the unique ScoliBrace system supported by complementary approaches. To learn more about scoliosis, or how to screen for the condition please see our website at https://scoliosisclinic.co.uk