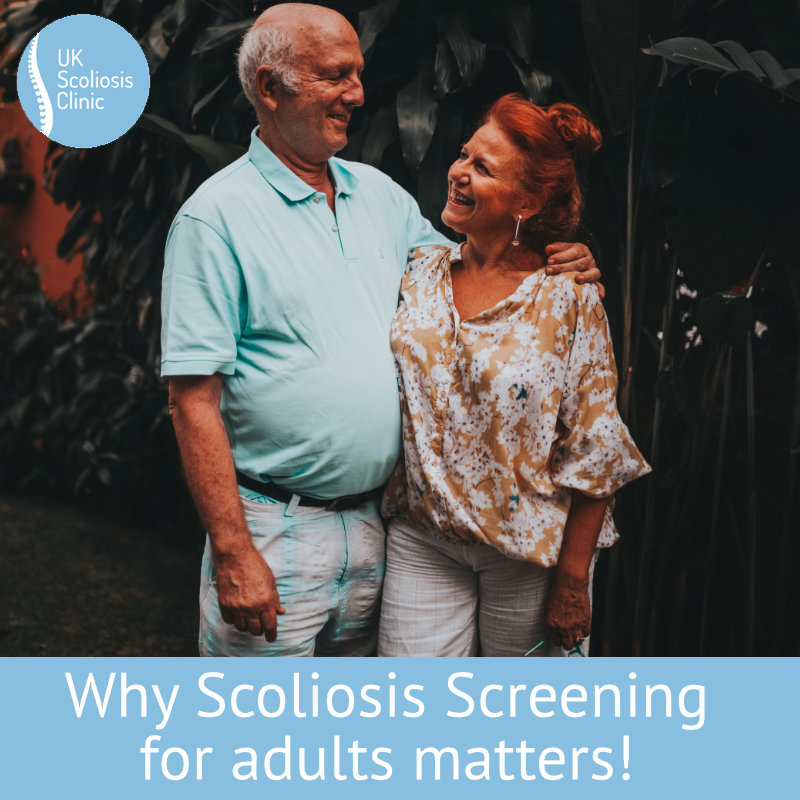 Scoliosis screening is a topic which we regularly write about on our blog – in our view (and safe to say, in the view of most of the scoliosis treatment community) screening represents a relatively inexpensive way to detect scoliosis as early as possible. In young people, early detection is particularly important – the majority of scoliosis cases progress (at least to come extent) without treatment, whereas early intervention allows for relatively simple, non-surgical approaches to be used in preventing and correcting curve progression. Studies have shown that a large percentage of scoliosis cases are detected between the ages of 11 and 14[1] although the young people outside of this bracket certainly can and do develop scoliosis.
Young people, with their whole life ahead of them, have the highest risk of progression from scoliosis –  however, when the condition is caught early, they also have some of the best prognoses. These two factors together mean that younger patients tend to attract the attention of most medical studies. It's essential however, that we also recognise the importance of screening in older adults – as many of 1 in 3 of whom will develop the condition in later life.[2]
Why screening older people matters
No matter what the age of the individual concerned, spotting scoliosis early is always a benefit, and, put simply, since there are forms of scoliosis – such as "De-Novo" scoliosis –  which begin development later in life, scoliosis is a condition which we need to be vigilant for throughout life.
It's true that Scoliosis cases (even more significant cases) tend to progress much more slowly throughout adulthood than they do in childhood (something around 1 degree per year is a commonly cited figure[3]) however we also have to keep in mind that one spends much more time as an adult than as a child! Since conditions such as De-Novo Scoliosis are related to the natural ageing process rather than the genetic factors which (as per the latest research available) looks to be the most likely culprit for adolescent scoliosis cases, it's also possible for someone with no history of scoliosis at all to develop the condition in their 60's or 70's.
The good news is that even without public health provision, scoliosis screening is quick, easy and can even be done yourself at home (although it's easier with someone to help).
It's for this reason that scoliosis screening is considered a beneficial stage of treatment amongst the Orthopaedic community, as it is reported in the Consensus Paper which has been published by the Society on Scoliosis Orthopaedic and Rehabilitation Treatment (SOSORT).[4]
So why have I never heard about scoliosis screening?
At present, scoliosis screening isn't widely provided in the UK – The latest review from the NHS concluded that screening for the condition isn't worth doing – as a scoliosis clinic, you can well imagine that we disagree with this!
There are three main reasons which explain the lack of screening in the UK – unfortunately, they're all pretty poor excuses!
The first is simply the fact that many health professionals have little or no training on Scoliosis, and the general public has even less. We don't just mean GP's here – while many professionals, such as Chiropractors, who specialise in spinal health can recognise a scoliosis case, most have not had the benefit of specialist training on how to treat the condition. As the UK Scoliosis clinic we're thrilled to take referrals from concerned chiropractors from miles around, but not all healthcare professionals have a clear referral route for scoliosis cases. This is an issue for the healthcare community itself to work on as a major step toward improving outcomes for patients.
This raises a question – why are we so ignorant when it comes to scoliosis, especially in older people?  This is the second major problem – the belief held for much of history, that scoliosis is treatable only with surgery, or (often for older adults) that progression was inevitable and simply something one had to "live with" – therefore, it followed that screening to catch it early was of little value.
Until recently, this has been a valid point – but it's critical to recognise that today there are far more options for scoliosis sufferers, and we're now able to help many patients overcome scoliosis without ever thinking about surgery. Much of the evidence suggesting scoliosis can only be treated with surgery dates as far back as the 1940's[5] so it makes sense for us to re-examine the evidence and technology we now have available.
This is all the more important given the results of more recent research which show that exercise[6] and bracing[7][8] based treatments can reduce pain and curve progression as well as improve quality of life in older people, even when used as a part time treatment.
The third reason is cost – and the cost-based argument against screening also flows from the same line of thought – if surgery is the only treatment option, why invest in screening? To be fair it has been true, even in the recent past, that accessing a scoliosis screening in the UK meant attending a specialist clinic, and inevitably that meant incurring a cost. Given that screening should be done yearly at least, and many older adults are working with a fixed income this clearly makes the proposition less attractive.
Today, however, screening need not be expensive – or actually cost anything at all. There are now several guided screening apps available, which, while not a substitute for a professional opinion, are a great initial screening tool. These include our own ScoliCheck app.
[1] 'School Scoliosis Screening Programme – A Systematic Review'
Sabirin J, Bakri R, Buang SN, Abdullah AT & Shapie A 2010, Medical Journal of Malaysia, December issue, vol. 65, no. 4, pp. 261-7.
[2] 'Scoliosis in adults aged forty years and older: prevalence and relationship to age, race, and gender'
Kebaish KM, Neubauer PR, Voros GD, Khoshnevisan MA, Skolasky R, Spine 2011 Apr 20;36(9):731-6.
'The prevalence and radiological findings in 1347 elderly patients with scoliosis'
Hong JY, Suh SW, Modi HN, Hur CY, Song HR, Park JH.,  Journal of bone and joint surgery 2010 Jul;92(7):980-3
[3] Weinstein SL, Ponseti IV: Curve progression in idiopathic scoliosis. J Bone Joint Surg (Am) 1983, 65:447-455.
Weinstein SL, Zavala DC, Ponseti IV: Idiopathic scoliosis: longterm follow-up and prognosis in untreated patients. J Bone Joint Surg (Am) 1981, 63:702-712.
Ascani E, Bartolozzi P, Logroscino CA, Marchetti PG, Ponte A, Savini R, Travaglini F, Binazzi R, Di Silvestre M: Natural history of untreated idiopathic scoliosis after skeletal maturity. Spine 1986, 11:784-789.
[4] TB Grivas, MH Wade, S Negrini, JP O'Brien, T Maruyama, M Rigo, HR Weiss, T Kotwicki, ES Vasiliadis, LS Neuhaus, T Neuhous, School Screening for Scoliosis. Where are we today? Proposal for a consensus. Scoliosis 2(1)  (2007) 17
[5] AR Shands, JS Barr, PC Colonna, L Noall, End-result study of the treatment of idiopathic scoliosis. Report of the Research Committee of the American Orthopedic Association.  J Bone Joint  Surg 23A  (1941) 963-977.
[6] 'Scoliosis-Specific exercises can reduce the progression of severe curves in adult idiopathic scoliosis: a long-term cohort study'
Negrini A, Donzelli S, Negrini M, Negrini S, Romano M, and Zaina F 2015,, Scoliosis Jul 11 10:20
[7] Scoliosis bracing and exercise for pain management in adults—a case report
Weiss et al, J Phys Ther Sci. 2016 Aug; 28(8): 2404–2407.
[8] 'Effects of Bracing in Adult With Scoliosis: A Retrospective Study'
Palazzo C, Montigny JP, Barbot F, Bussel B, Vaugier I, Fort D, Courtois I, Marty-Poumarat C, Arch Phys Med Rehabil. 2016 Jun 22. pii: S0003-9993(16)30256-8. doi: 10.1016/j.apmr.2016.05.019