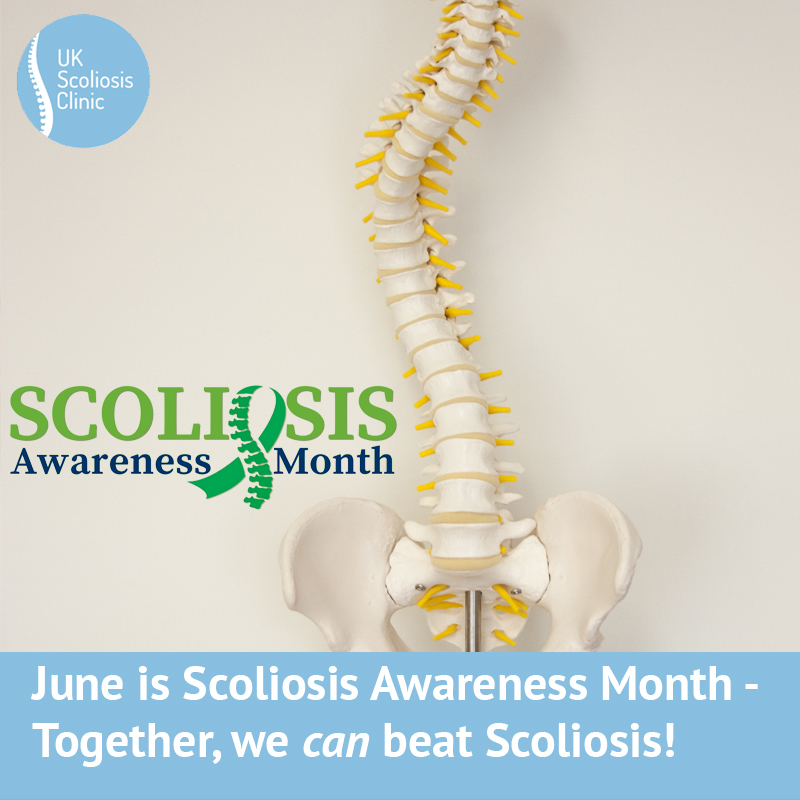 A year has almost gone by already, and its nearly time for scoliosis awareness month 2019.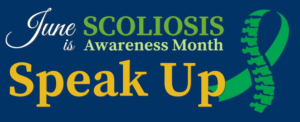 Scoliosis awareness month was originally set up by the National Scoliosis Foundation in the US, and has since been endorsed by the Scoliosis Research Society and the Society On Scoliosis Orthopaedic Rehabilitation and Treatment (SOSORT), meaning that many of the most important organisations in the world of scoliosis treatment now support this special month. This year, as always, we are aiming to:
Highlight the importance of early detection and the effectiveness of bracing as an effective form of non-surgical treatment for scoliosis.
To have every state, district and commonwealth to officially declare by proclamation their observance of National Scoliosis Awareness Month during the month of June.
Increase public awareness of scoliosis and related spinal deformities through educational and advocacy campaigns of local activities, and community events during the month of June and throughout the year
Unite scoliosis patients, families, physicians, and clinicians in a collaborative partnership that educate, and advocate, for patient care, patient screening, patient privacy, and patient protection
Build networks of community collaborations and alliances to help sustain and grow the campaign
Originally a one-off event, scoliosis awareness month is now held in June each year, and it's a prime opportunity to raise awareness and create the opportunity for those in the community to access screening and treatment. The fact that the event has now gone yearly is a fantastic indication that the message about scoliosis is getting out there, but with so many people requiring surgeries which could have been avoided each year, there's still more work to do!
What is the UK Scoliosis clinic doing in June 2019?
At the UK scoliosis clinic, we have several special events confirmed for this year: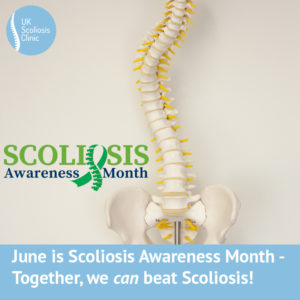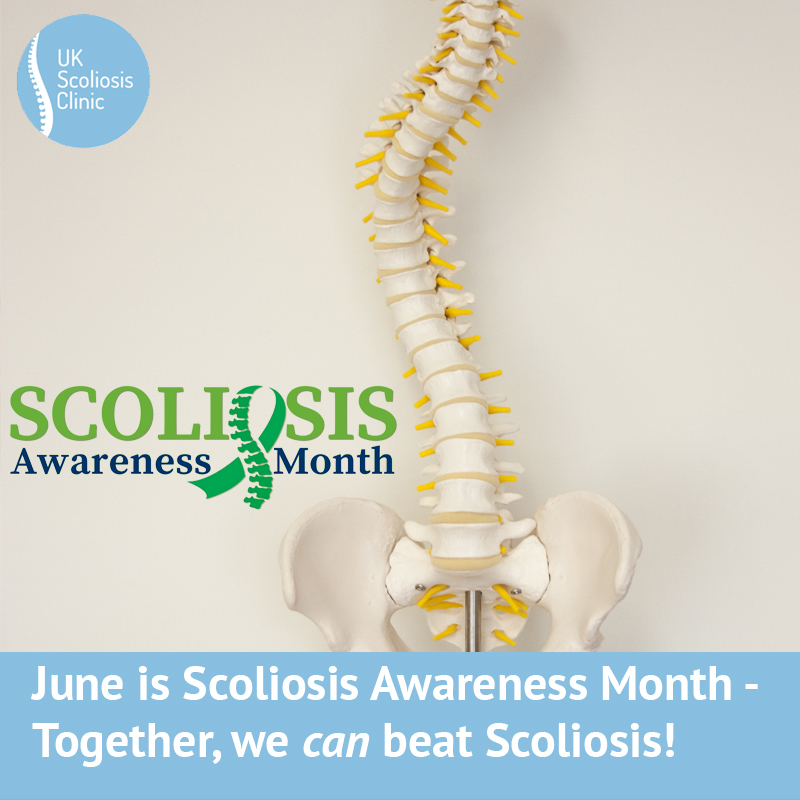 Free screening days
This year, we will be running at least one (but perhaps more, subject to demand) free scoliosis screening days. At a free screening, it will be possible for members of the public to be professionally evaluated for scoliosis by our scoliosis professionals. Screening is a fantastic idea for anyone who is at a high risk of scoliosis but can also be used to rule out scoliosis as an underlying or causal factor in another complaint.
We will be running a free screening day at the clinic on June 15th – if you would like to attend please grab yourself a slot on our Eventbrite page and if you're on Facebook, sign up to our event page to get the latest updates here.
Screening takes about 15 minutes and will be performed in privately with our scoliosis clinicians. Screening is suitable for individuals of any age, but keep in mind the risk is greatest in children aged approximately 10-18.
Early detection of scoliosis is one of the most important factors in ensuring a positive outcome for each case, and gives the greatest possible latitude for conservative, non-surgical treatment so succeed – don't miss this free opportunity!
Special Initial consultation offer
Throughout June, those who already suspect they have scoliosis or have had a positive screening result will be able to book an initial consultation at the reduced price of just £45. At your initial consultation, a suspected or confirmed scoliosis case will be thoroughly investigated, and a detailed case history will be taken to assess your risk of progression and the best treatment options available. If you do not already have X-rays for your case, these will be available for a small additional fee, on-site, at your consultation.
Special blog series
During June, we'll also be running a special blog series which will give step by step instructions for parents and guardians who are concerned about children with scoliosis – we'll be starting at initial diagnosis and working all the way through to the end of treatment to give you a good overview of the whole process.
Free X-ray review
If you have X-rays already and would like an initial (or second opinion) please feel free to take advantage of our free x-ray review service. While this service isn't a standalone diagnostic tool (an initial consultation is needed to confirm and characterise the presence of scoliosis) it is an excellent way to determine whether a case warrants further investigation.
Scoliosis awareness – what can I do?
While scoliosis is now becoming easier than ever to treat, at least when spotted early, one of the biggest issues we face today is the fact that most people are still unaware of it. Although scoliosis affects approximately 3 or 4 percent of children, and as much as 40% of the over 60's many people have never even heard of the condition.
This lack of awareness means that parents, friends and carers – with the best will in the world – just don't know the signs or what to do if they have concerns. There have been well-organised campaigns to make the public aware of potentially serious conditions, such as meningitis, in children and adolescents, but almost nothing on scoliosis.
Simply talking to friends and family about scoliosis can, therefore, make a massive impact. Using tools like ScoliScreen, its easy to estimate your risk profile and to find out how to seek help, but raising initial awareness depends upon conscientious members of the public highlighting the issue – during June, speak to friends and loved ones about scoliosis, and point them to our free resources, working together we can prevent hundreds, if not thousands of unnecessary surgeries this year!