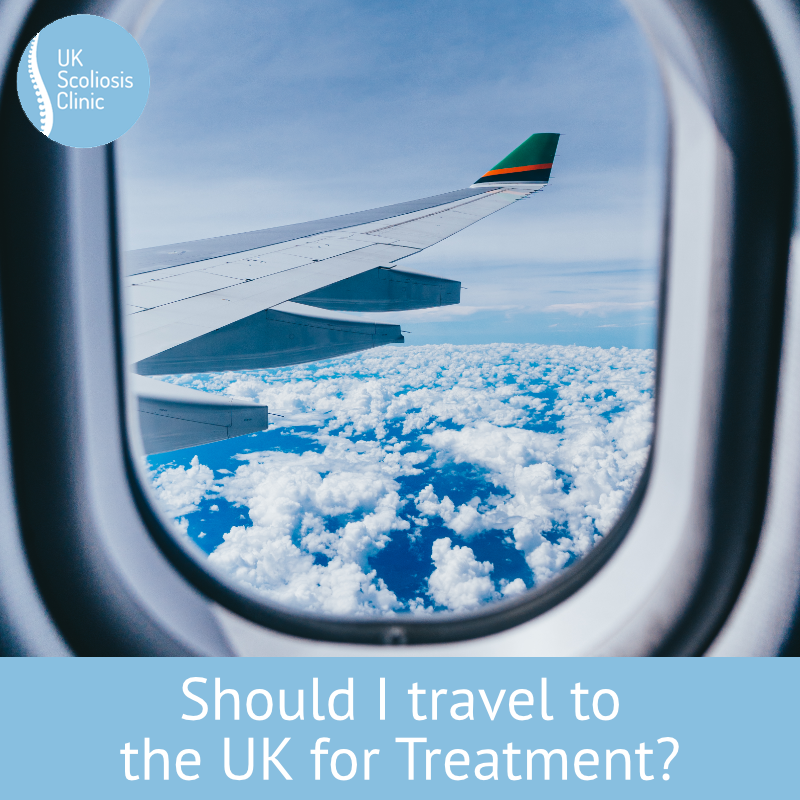 When it comes to Scoliosis treatment, the simple fact is where you live has a big impact on the kind of treatment available to you and how you can best access it. The best place to seek treatment also depends on the kind of treatment you're looking for, of course. Sometimes this might mean travelling abroad to a clinic is the best option for you. The option to see a specialist who has experience working with a specific co-existing condition might also be a factor to consider, even where others are available closer to home.
At the UK Scoliosis Clinic were thrilled to welcome patients from all around the world who are seeking non-surgical treatment approaches based around bracing. While many of our Clients are UK based, we can and do see many people from all around the world each year – of course, since the COVID 19 pandemic many people have been asking whether it's a good idea to seek treatment with us in the UK, so this week we look at the pros and cons of travelling to the UK Scoliosis Clinic.
COVID
Firstly, let's address the elephant in the room – COVID-19 – while largely under control in the UK, the disease is still prevalent – does this mean you shouldn't travel? Of course, this is a decision for each of us to make individually, however, at this point in time, the vast majority of covid restrictions in the UK have been rescinded with items such as mask-wearing now optional based on your personal preferences. Covid levels in the UK remain broadly similar to most developed countries. At the UK Scoliosis Clinic, we've kept up with common sense measures such as enhanced cleaning and improved ventilation to help keep the spread of covid to a minimum.
The Economy and Pricing
In case you're not a follower of global finance (we can forgive you for that) we'll let you know that the UK Economy isn't exactly doing fantastically at the moment… while this isn't great for those of us living here it can be a significant advantage for those looking to travel for treatment. The weakness of the UK Pound means that our services, including consultations and braces, are now more affordable than ever before once you take the exchange rate into account.
We're easy to get to
While travelling internationally often seems like a daunting prospect, the UK Scoliosis Clinic is very easy to get to – and much less complicated than many clinics based in London. Our Chelmsford Clinic is positioned close to both London Stansted (STN) and London Southend (SND) airports the trip from the airport is an easy one. Getting from the airport to the clinic is straightforward, and we have Bus, Cab or Train stops literally within 10 minutes' walk of our door.
If you're coming to the UK on a long-haul flight, you may want to stay in Chelmsford overnight, but many of our European-based patients can and do fly in, attend the clinic and return home at the end of the day. Direct flights to both airports are available from most major European destinations, from a wide variety of budget and national carriers – Flights at less busy times can be very inexpensive indeed.
If you're travelling from Europe It's also easy to reach our clinic via the Eurostar train service. The Eurostar will set you down at Kings Cross St. Pancras international station in London, from where you can easily connect to Chelmsford station, which is just a few minute's walk from the clinic
We understand that international patients can often be subject to delays in arriving at the clinic due to situations beyond their control, thus we make all possible efforts to accommodate this – however if you are intending to conduct part of your journey by public transport, please leave at least an extra hour in your planning in case of delays – UK Public transport rarely runs on time!
It's easy to enter the UK
Although it's true that European citizens do now face slightly more paperwork when travelling to the UK than before Brexit, the process of acquiring the relevant visa for travel (a tourist visa is perfectly acceptable for visiting the UK Scoliosis Clinic) is straightforward for citizens of the vast majority of countries.
We're Flexible!
As a Clinic, we want to provide fantastic treatment options to everyone, regardless of where they happen to live. We take a flexible approach to provide options for those who need to travel further to the clinic and we'll go out of our way to make arrangements that work for you whenever possible. This starts right from the consultation stage with our new web-based consultation option – which is ideal for those living abroad.
Scoliosis Treatment in the UK
If you're thinking about Scoliosis treatment in the UK, a web-based consultation is an excellent way to start – this will give us an opportunity to speak to you about what we might be able to offer in your specific case, as well as what the cost of treatment would be, before you leave your own home. Follow up and review appointments may also be able to be conducted online when required and we can work with your local x-ray imaging facility if necessary. In fact, if you have been thinking about treatment in the UK, there may never have been a better time!