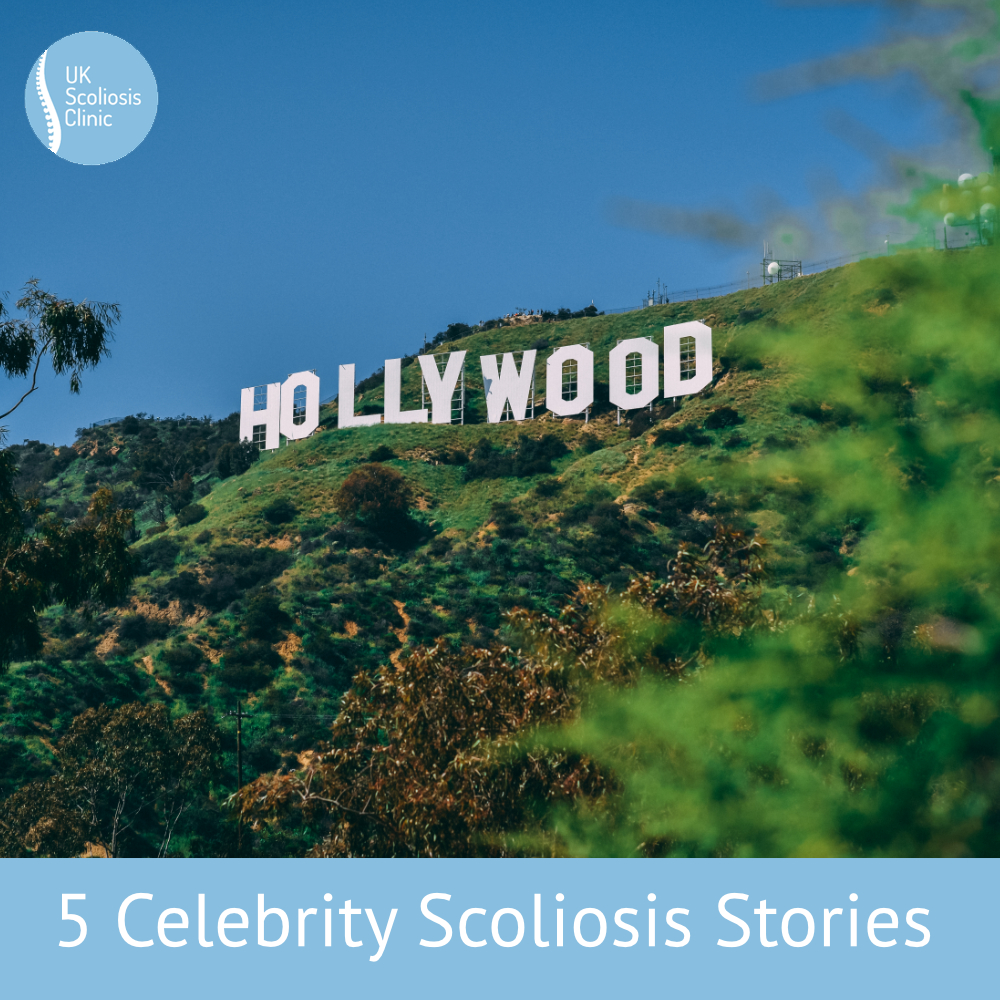 While the main focus of our blog is on treating, preventing and correcting Scoliosis, it's always worth taking a moment to acknowledge the great things that many people with scoliosis have done. Scoliosis no matter how you opt to treat it (or not) does not have to ruin a life – and indeed, for some people, it can even give them a unique kind of strength. This week we're taking a look at 5 interesting and diverse people who have or have had scoliosis, and what it means to them.
Please note that the UK Scoliosis clinic does not endorse (or cities) any of the views, nor the treatments (or lack of) discussed here.
1 – Usain Bolt
Usain Bolt is a Jamaican superstar sprinter and a five-time World and three-time Olympic gold medallist. He is the world record and Olympic record holder in the 100 meters, the 200 meters and the 4×100 meters relay – in short, he's pretty good at what he does.
He is the reigning Olympic champion in these three events and is one of only seven athletes to win world championships at the youth, junior, and senior-level of an athletic event. He is also famously known as the 'World's Fastest Man', after the 2012 London Summer Olympics where he won the 100 meters gold medal with a time of 9.63 seconds, setting a new Olympic record for that distance.
Bolt also suffers from scoliosis – which is believed to have been a factor in a serious injury that led to him cutting short his season in 2010. Of the condition, bolt says:
 "Scoliosis is not as serious as it sounds but for me, as a track athlete, it can be serious; I work really hard to keep it away but it's still there."
Bolt reportedly receives treatment from a homoeopathic German sports doctor a couple of times a year. He also has a masseuse who never leaves the sprinter's side, travelling all over the world with him, warming him up before and after training and at every race  – although to be fair, this isn't uncommon for athletes of his calibre! [1]
2 – Kurt Cobain
Music legend and cult figure Kurt Cobain suffered from Scoliosis – like many he experienced pain from the condition, but sadly this was long before we understood the link to pain, and well before effective non-surgical treatments were widely available.
Cobain's story is interesting because, according to an interview with MTV – pain from the scoliosis actually became an important influence for him. He said:
    "… I have scoliosis. I had minor scoliosis in junior high, and since I've been playing guitar ever since, the weight of the guitar has made my back grow in this curvature. So when I stand, everything is sideways. It's weird. "
    "I go to a chiropractor every once in a while….. [scoliosis] gives me a back pain all the time. That really adds to the pain in our music. It really does. I'm kind of grateful for it." [2]
3 – General Douglas MacArthur
Well known to history buffs and our friends in the US, General Douglas MacArthur was a critical figuring during the battle for the Pacific during WWII who served as supreme commander for the southwest pacific area and won the medal of honour for his defence of the Philippines.
Did you know, however, that this great military mind almost missed out on entrance to West Point – the prestigious officer school? He had the grades to qualify for entrance to West Point, but when he went for his preliminary physical examination, he received shocking news. The doctor informed MacArthur that he had curvature of the spine and was medically unfit to enter West Point.
McArthur, not being one to give up easily, consulted with Dr. Franz Pfister, a well-respected surgeon in Milwaukee, Wisconsin. Dr. Pfister told Douglas there was a possibility he could cure his spinal problem, as long as Douglas was prepared to do special scoliosis exercises everyday and follow all of his instructions for one year. Douglas jumped at the opportunity and made plans to move to Milwaukee, where he worked at his prescribed exercises every day.
After one year, he attempted the physical examination again – the doctor who conducted the exam saw that while he made great improvement – but his spine still wasn't straight enough to pass. Undeterred, he continued on with the scoliosis specific exercises until in May of 1899 he finally passed his physical exam into West Point.[3]
4- Liza Minnelli
Liza May Minnelli was born in Hollywood, California. She is an American actress, singer and Broadway performer – you've probably seen her in something! Liza is the daughter of Judy Garland and film director Vincente Minnelli. Though her first appearances were with her superstar mother, Liza has established a substantial career as a performer. She is among the few entertainers who have won an Oscar, Emmy, Grammy, and Tony Award. She has also received two Golden Globes, a Grammy Living Legend award and induction into the Grammy Hall of Fame and numerous other awards and honours.
It has been speculated that Judy Garland herself may have had scoliosis, but it's certain that Liza Minnelli has scoliosis. She has mentioned in interviews that her scoliosis forced her to move on stage in ways that didn't affect her breathing or cause her pain.
In recent years, Liza has made appearances in various films and in television, perhaps most notable was her role on the TV comedy Arrested Development. Over the years, Liza has served and supported various charities and causes.
Of her condition, Minnelli says "I've got two false hips, a wired-up knee, scoliosis, which I've always had, and three crushed disks, but I feel great. I dance every day."[4]
5 – King Tutankhamun
Perhaps the most famous figure from ancient history, King Tutankhamun may well have had Scoliosis. What's more interesting, evidence also showed that one of Tut's children (who was buried with him, having died in infancy) may have also had Scoliosis. This provides some ancient evidence for the purported genetic aetiology of scoliosis.
A 2010 article by the Journal of the American Medical Association outlined a study of the Egyptian king that estimates his death at around 17-19 years of age. Based on tests conducted on the remains of Tut, it is believed he died at such a young age of conditions including malaria and complications from a leg fracture.
The researcher's CAT scanned King Tut's mummy and also discovered he had "severe kyphoscoliosis an abnormal curvature of the spine in both coronal and sagittal planes". They also found that he had oligodactyly, a toe malformation. They speculated that the condition would have made his left foot swell and would have caused excruciating pain when he walked[5].
Ancient drawings depict Tut shooting arrows sitting in a chariot, which researchers say is unusual. 130 walking sticks were found in Tut's tomb. They were originally thought to merely represent power but now are thought to be ancient forms of crutches or canes. It is believed that Tut may have used them because he had difficulty walking and standing. Paintings, like the one below, found in Tut's tomb show him leaning on such canes/crutches with his legs crossed awkwardly underneath him.
[1] https://usainbolt.com/
[2] http://www.mtv.com/news/1572103/kurt-cobain-about-a-son-from-beyond-by-kurt-loder/
[3] Douglas MacArthur: What Greater Honor. Pages 25-33
[4] https://www.timeout.com/newyork/film/that-70s-show
[5] Zahi Hawass, PhD; Yehia Z. Gad, MD; Somaia Ismail, PhD; et al, Ancestry and Pathology in King Tutankhamun's Family,  JAMA. 2010;303(7):638-647. doi:10.1001/jama.2010.121