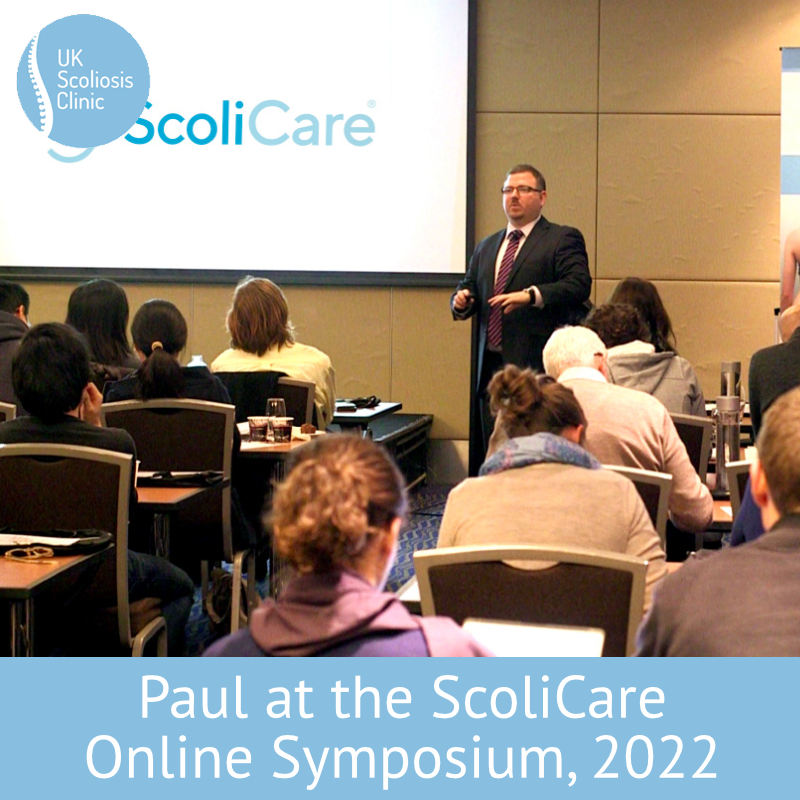 After attending several fantastic events this year as an attendee, Paul was thrilled to be invited to present some results and cases from the UK Scoliosis Clinic at this year's ScoliCare Annual Online ScoliCare Symposium.
ScoliCare Symposium 2022
As we've often said, one of the most critical factors when it comes to improving outcomes from Scoliosis treatment in general, and bracing in particular, is staying involved and up to date on the latest research. At the UK Scoliosis Clinic, we're constantly evaluating research into innovative approaches to scoliosis treatment, with a view to integrating promising methods into our own programmes.
ScoliCare's Annual Online ScoliCare Symposium brings together global healthcare leaders to provide an update on the latest in scoliosis treatment -being an online event it's possible to incorporate a very wide variety of views and case studies to allow attendees to benefit from cutting-edge research from around the globe.
The Symposium was a jam-packed six hours of content from non-surgical scoliosis clinicians, researchers, surgeons and exercise rehabilitation providers. Some of the topics covered included:
The latest scoliosis research from around the world
Complex scoliosis management insights
Sagittal balance in scoliosis focus
Scoliosis-specific exercise overview
Scoliosis and sport
Adult bracing
The surgeon's perspective
Wide range of case studies
Paul was thrilled to present some fantastic case studies from the UK Scoliosis Clinic as part of the Session: Neuromuscular Scoliosis and Suspension Bracing.
Case study
The case presented arrived at our clinic at the end of October 2018 with a 42° right thoracic curve, having no pain and being otherwise healthy. Although the signs of Scoliosis had been observed, the surgeon advised "watch & wait".
The UK Scoliosis clinic designed a treatment plan designed primarily to stop the progression of Scoliosis and avoid surgery, with the secondary desire to reduce the curve if possible. The plan for this case included full-time brace wear of 21-23 hours/day, Corrective PSSE, Mirror image over corrective exercises, SEAS self-correction and General core stability exercises and calisthenics – rather than focusing on just a single approach, we opted for a combined plan which aimed to address each of the core aspects impacted by Scoliosis.
Overall the case was a fantastic success, between October 2018 and April 2022, the Scoliosis reduced from 42 to 21°, ATR reduced from 17 to 13°, Grown in height from 3cm from 172.5cm to 175.5cm was observed, along with Improved aesthetics.