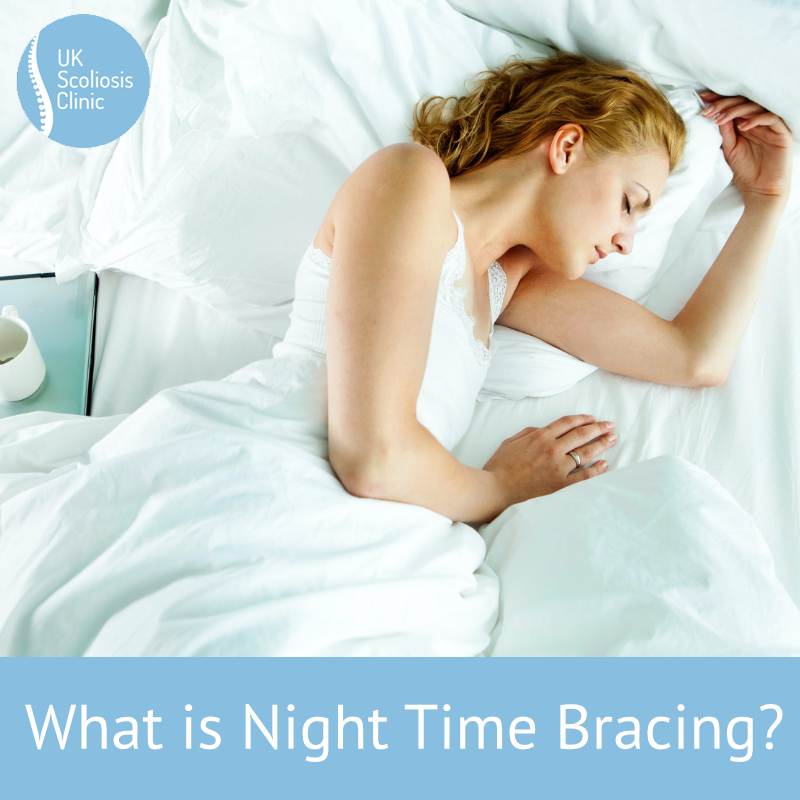 Today, Scoliosis bracing is recognised as the most effective non-surgical scoliosis treatment to reduce cobb angle in scoliosis cases – and to do so relatively quickly. This isn't to say that bracing is a total solution – scoliosis also creates muscle and posture imbalances which are best addressed by methods such as scoliosis specific exercise, however, we now understand that Bracing is far more effective than exercise in reducing cobb angle itself. [1]
Research also shows that the longer scoliosis braces are worn, the more quickly the underlying cobb angle can be corrected[2] – this means that typically, bracing will be almost full time with a view to achieving rapid change. However, for some smaller curves night time bracing, a part-time bracing option, maybe a viable way to go – so what's the evidence for night time bracing?
Night time bracing
Whereas most scoliosis bracing takes place on a nearly full-time basis, night time bracing is a part-time approach – which, as you may have guessed, takes place in the evening and at night.
Night time bracing is one approach which has been considered as a way of addressing concerns relating to poor patient compliance, which is often noted with the use of full-time bracing. Night time braces will, by their nature, tend to correct a curve more slowly than a full-time brace – however, based on the clinical results available, a recent study concluded that night time braces constitute an attractive option for single-major lumbar/thoracolumbar curves not exceeding 35 degrees in magnitude. [3]
Like all approaches, night time braces have some pros and cons, however, and it's a decision that should be discussed with a scoliosis professional. Some factors to consider are:
Advantages of night-time braces
More attractive wear time – many patients find that wearing a brace in the evening or at night is easier for them to manage from a social point of view, and it's an attractive option for parents who are worried about bracing their children during school hours.
Higher compliance – Compliance with prescribed brace wear time is one of the most critical aspects of scoliosis treatment, and with young children and adults, in particular, maintaining compliance is perhaps the most difficult part of treatment. Higher compliance rates, even at a slower correction speed, may prove better in the long term than a full-time brace which is not worn properly.
Ideal for maintaining results – Night time braces represent an excellent option for preventing scoliosis returning in patients who have successfully completed treatment, but need to maintain curve correction until skeletal maturity has been achieved. Unlike an exercise-based approach, a night time brace requires very little effort from the user.
Suitable for early intervention – Night time braces may be a good choice for patients who have a curve unsuitable for exercise-based treatment, or for those who are too young or weak to be able to perform exercise properly.
Disadvantages of night-time braces
Slower curve correction – cobb angle correction correlates with brace wear time, so a lower wear time means a longer duration of treatment. In some situations, a shorter course of more intensive bracing may be preferable.
Not suitable for large curves –  larger curves require full time bracing, meaning that night time braces are not likely to be effective for more serious scoliosis cases. Our ScoliNight brace is recommended for curves less than 25 degrees.
Less cost-effective –  night time braces achieve less correction over the same course of time than a full-time brace. In growing children, this may mean multiple braces need to be purchased, rather than just one full-time brace.
In most cases, we recommend a full time (or near full time) brace for scoliosis treatment, especially for larger curves. In most cases, correcting the curve as soon as possible is the main concern – however as suggested above, night time bracing could be an excellent option for correction maintenance over the longer term.
It's also important to stress that modern scoliosis braces do go quite some way to alleviate the main issues associated with low compliance – the model we prefer, the ScoliBrace, is designed using a fully individualised CAD/CAM process to fit the wearer snugly but comfortably. ScoliBrace comes in a wide variety of colours and can be virtually invisible under clothes if this is the look you prefer. Similarly, it's flexible enough to allow the wearer to participate in sporting activities and normal play with no significant hindrance.
Want more information about night time Bracing?
To find out if night time bracing might be the right option for you, book a consultation today! The UK Scoliosis Clinic offers consultations at our clinic, or online, via webex
[1] Yu Zheng, MD PhD et al. Whether orthotic management and exercise are equally effective to the patients with adolescent idiopathic scoliosis in Mainland China? – A randomized controlled trial study SPINE: An International Journal for the study of the spine [Publish Ahead of Print]
[2] 'Effects of Bracing in Adolescents with Idiopathic Scoliosis'
Stuart L. Weinstein, Lori A. Dolan, James G. Wright, and Matthew B. Dobbs, N Engl J Med 2013; 369:1512-1521 October 17, 2013DOI: 10.1056/NEJMoa1307337
[3] Grivas TB, Rodopoulos GI, Bardakos NV. Biomechanical and clinical perspectives on nighttime bracing for adolescent idiopathic scoliosis. Stud Health Technol Inform. 2008;135:274-90. PMID: 18401098.