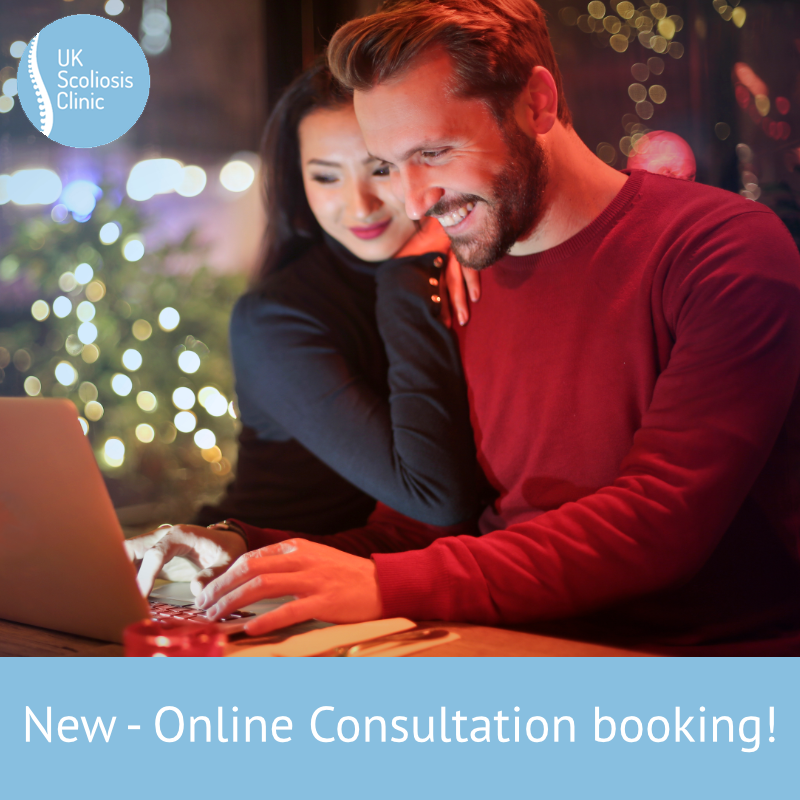 As part of ongoing efforts to make accessing services at the UK Scoliosis Clinic easier than ever, we have now introduced an option to book either an online or in-person consultation right here through our website. With two options to pick from you might be wondering which consultation type is right for you?
Online consultation
An online consultation is an excellent way to speak to a Scoliosis expert from the comfort of your own home and at a lower cost than an in-person consultation at our clinic. Our online option includes the taking of an essential Scoliosis specific medical history, a review of any x-rays which you may have, movement assessment, a visual postural assessment (if desired) and time for Q & A.
An online consultation generally lasts approximately 20-30 Minutes and takes place via our secure online platform, which means your consultation remains totally private.
An online consultation is ideal for someone who wants to speak to an expert, get a second opinion on a diagnosis or treatment recommendation or is simply seeking some advice about the first steps when learning they have Scoliosis. The major drawback of an online consultation is that we cannot take X-rays nor physical measurements of your spine, nor see you in person – this means that in most cases we cannot formally diagnose Scoliosis during an online consultation, although we can usually give our professional opinion. If you already have X-rays, a web consultation can be an excellent option, although it's important to keep in mind that our diagnosis and advice in this situation relies on the currency of the X-rays you provide.
Since a web consultation is also cheaper, they're a good choice for people who want to explore scoliosis treatment, without incurring larger costs – for example, an older person considering bracing to help manage Scoliosis related pain.
Perhaps the biggest benefit of the online consultation option is the fact that you can participate from anywhere in the world – allowing you to access world-class Scoliosis advice wherever you happen to be located. Please note, that we currently offer consultations in English only.
In-person consultation
An in-person consultation at our clinic is the most comprehensive option designed to provide not only a formal diagnosis of Scoliosis but also practical advice on treatment steps and the options which would be applicable for you.
Scoliosis consultation at our clinic is the fastest and most efficient way to get answers on Scoliosis. Our consultations can include X-rays (for a additional fee), which are taken here at the clinic enabling you to get a professional diagnosis and a plan to move forward with treatment if appropriate for your case.
Our In-clinic consultation lasts between 1.5 and 2 hours, and includes a detailed, Scoliosis specific medical history, Scoliosis impact assessment, Postural Assessment, Scoliosis measurement and evaluation and a detailed report outlining your case, diagnosis and recommended options for treatment. We can also provide a report to your insurance provider (if required).
Your appointment can include a full set of Diagnostic X-rays utilising our state-of-the-art digital X-ray machine, allowing Scoliosis to be definitely diagnosed and understood. You will also receive a digital copy of your X-rays to take away.
Our in-clinic consultations are most suitable for those who are concerned that they may have scoliosis but do not have X-rays or other documentation to rule the condition in, or out. It's also ideal for those who know they have Scoliosis and are actively looking to take up non-surgical treatment or are wanting to change treatment, perhaps from another provider.
Next steps
All of our consultations are standalone options – meaning there's no obligation to take up treatment with us after your consultation. In some cases, it might be determined that Scoliosis isn't the correct diagnosis, or it may be the case that more appropriate treatment can be obtained through another provider – in this case, we're often able to recommend suitable practitioners close to you.  Where Scoliosis is determined to be an issue for you, an in-person consultation can lead directly into the formation and beginning of a treatment plan should you want to take action as soon as possible.
For those consulting with us from overseas, we work with a network of other Scoliosis treatment providers across the globe and can often recommend a practitioner in your general area – but should you wish to visit our clinic you'll still be very welcome!