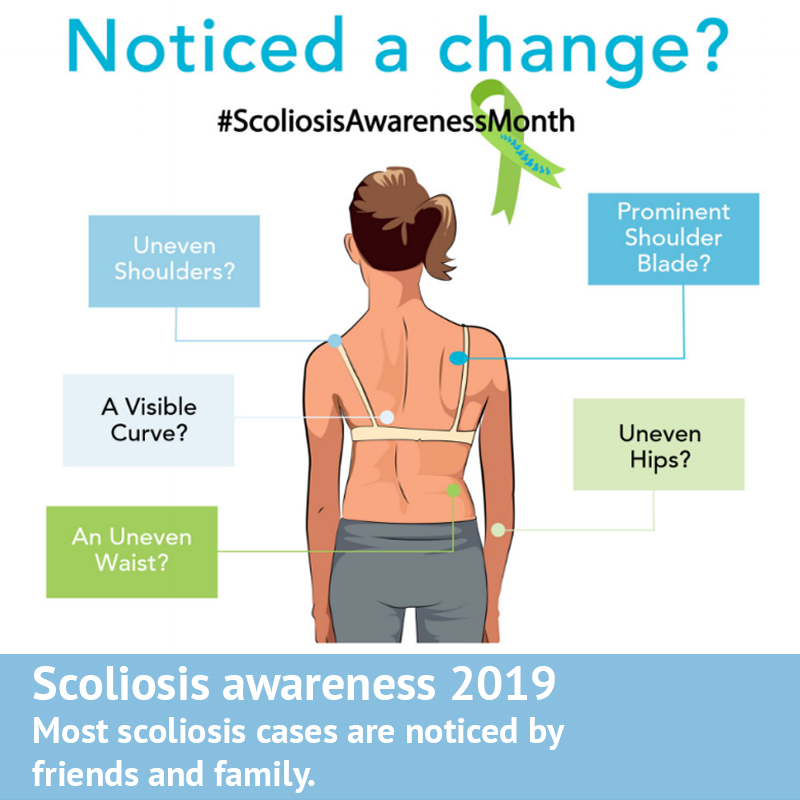 Welcome to this special series of articles from the UK scoliosis clinic. This month is scoliosis awareness month, and throughout June we will be covering a representational example of a scoliosis case, all the way from discovery to diagnosis, treatment to conclusion.  While this series necessarily presents a generalised view of scoliosis treatment as a whole, we hope it will provide a good overview of the treatment process, which will be similar for most cases.
1 . Is that scoliosis?
Most people have never heard of scoliosis, although it's much more common than you might think. Scoliosis affects about 3 or 4 per cent of children (about one in each class at school) and as many as 40% of the over 60s. Scoliosis is a condition of the spine which causes it to curve away from its natural (fairly) straight alignment when viewed from behind. When viewed from the side the spine does curve gently forwards and backwards – these curves are known as Kyphosis, and Lordosis, and are a normal and important part of the way your spine works. A small bend in the spine, less than 10 degrees is considered normal and not a cause for concern – but in cases which need treatment, curves can often exceed as much as 50 degrees, 5 times that "normal" figure.
While this is all great information, we can't usually see our spines or our children's spines – and unless you've had cause to have a chest x-ray or similar taken its unlikely that you ever would have, so how can we recognise scoliosis in the first place?
In many countries around the world, Scoliosis is a condition for which there is a national screening program. In the same way that many of our children receive immunisations through their school, if you happen to be born in the right country, you'll also get a Scoliosis screening. Screening allows scoliosis to be spotted very early and therefore treated most effectively. In the UK however, there is no such program, so here most scoliosis cases are spotted by family members, friends, or (often in the case of teenagers) by the sufferer themselves.
Take our case here, patient X. Patient X is a 16-year-old female, who initially complained about what appeared to be poor posture. The 'x's marked on her back show exactly where each of her vertebrate is, but you can imagine that without these markings, it simply looks as if she is standing awkwardly, or, like many teenagers, has awful posture! As you can see from the X-ray on the right, however, this is, in fact, a fairly well-advanced scoliosis case.
So how do we spot scoliosis? The main points to ask yourself are –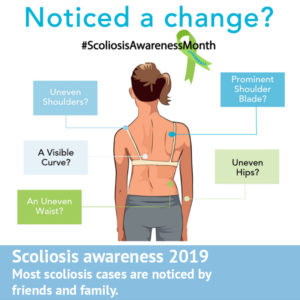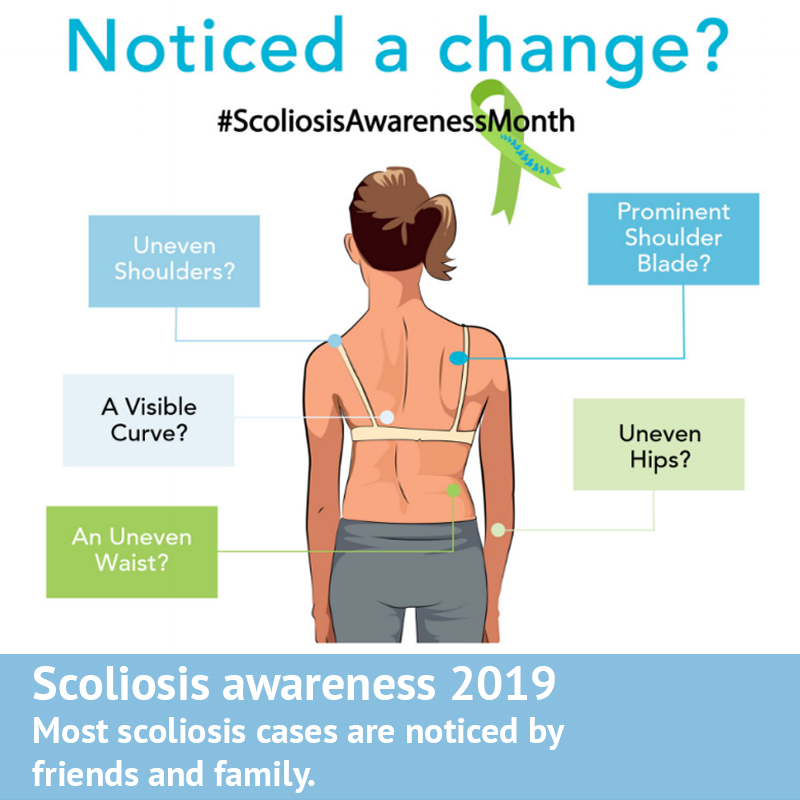 Are the shoulder's level or uneven?
Is the waist even on each side? Or is one side straighter and the other more rounded or prominent?
Does one side look like it's folded down or have a large skin crease?
Are the shoulder blades level? Does one stick out more than the other?
With straight legs, bending forward from the waist and with the hands between the knees is one side of the rib cage higher than the other, or is the lower back more prominent than the other, if yes, this indicates scoliosis.
It wasn't a scoliosis screening which highlighted this example – In-Patient X's case, it was this poor posture, and some mild back pain which brought her in for a scoliosis screening – importantly, she also participated in ballet (research shows that ballet dancers have a higher incidence of scoliosis) and had a family history of scoliosis. While these facts probably didn't seem relevant to her at the time, they sounded all too common to the scoliosis professionals. According to the patients' mum, she had no major issues growing up and all major growth milestones passed without incident – but for the back pain and the fact that she noticed the poor posture, this case would have continued to progress. It's hard to say when the case actually began, but it's entirely possible it had been developing for several years, and early screening could have detected this.
2. So, its Scoliosis.
Thankfully, patient X was seen at a scoliosis clinic within just weeks of her initial diagnosis. A simple scoliosis screening, coupled with a measurement from a device known as a scoliometer revealed the presence of all the warning signs, and at her follow up appointment the above x-ray confirmed the presence of scoliosis.
But when we say "scoliosis" – what do we really mean? This is a complex question since each and every scoliosis case is different and occurs in 3D. While we typically define scoliosis as a curvature of the spine when viewed from the rear, the condition is always more complex than this explanation makes it sound. In addition to the curvature, the vertebra will usually be rotated to some extent and may also be subject to damage or malformations as a result, or even as a cause of the Scoliosis. Scoliosis cases can curve in different directions and the vertebra which is most displaced from the centreline will also vary. Some scoliosis cases consist of a single curve, whereas others consist of a major curve and an opposite "compensatory" or secondary curve.  Scoliotic curves can also develop in different regions of the spine, or more than one region.
Therefore, receiving the diagnosis of "scoliosis" is only the first step. Using a variety of sophisticated imaging technologies, it was possible to classify and understand patient x's scoliosis – hers was a 33 degree, left thoracolumbar scoliosis with significant rotation of the vertebra in the lumbar spine, the condition was causing poor posture and had also become painful. There's no question that this is a complex diagnosis and one which only 10 years ago would almost certainly have ended in surgery, but thanks to the advanced research in the field of scoliosis correction, it's the kind of case that today we can successfully treat non-surgically.
What's critical to appreciate, however, is the complexity of this and the vast majority of scoliosis cases. Patient X (as we will see in coming segments) was treated with great success, without surgery, and no longer suffers from scoliosis – but this result has been almost entirely attributable to the highly individualised, customised treatment plan she received. More about that, next week.