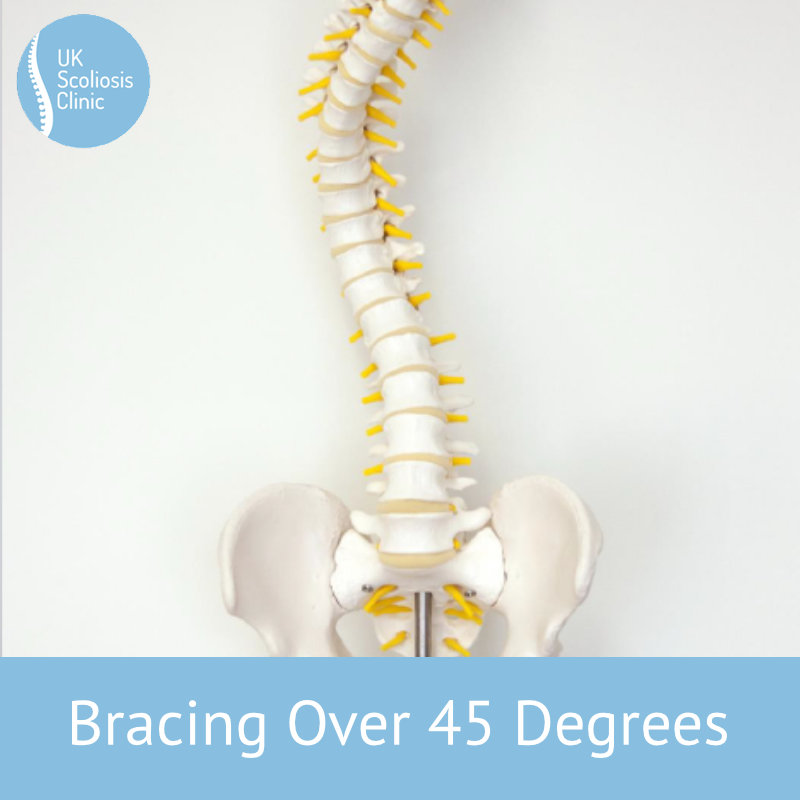 For many years it was considered to be the case that surgery was the only option for reversing Scoliosis – while Scoliosis braces did exist, their primary function was simply to stop Scoliosis from progressing. The best outcome available from bracing was therefore to slow Scoliosis down enough that a patient reached adulthood with a tolerable curve.
Today, modern Scoliosis braces have the ability not only to stop the progression of Scoliosis but also to reverse the condition. Such "over corrective" braces, such as the ScoliBrace we offer at the UK Scoliosis Clinic do this by applying gentle pressure to the scoliotic curve in the opposite direction to the curvature – over time, this can gradually help the spine to return to proper alignment. The success of bracing treatment depends on several factors – one of the most important being the flexibility in the spine, however, it's possible for patients with Scoliosis up to around 60 degrees[1] to see excellent correction when they are young and flexible enough.
Nonetheless, the "wait and see" followed by surgery approach is still common today, which means Scoliosis patients should always do their research and explore their options before committing to a specific course of treatment.
When to brace
When to brace a Scoliosis curve is a tricky question, and one of the major benefits of seeing a Scoliosis specialist – very small curves may not need bracing, with an exercise methodology being enough to control the condition. Larger curves, but those under roughly 30 degrees could benefit from either bracing or exercise-based approaches, so the patient's lifestyle factors and preferences start to play an important role in treatment selection. For curves over 30 degrees Cobb (Cobb angle being the way in which Scoliosis is measured), bracing is usually the best way forward – however many patients with curves over 45 degrees are often recommended a surgical approach, is this the only option?
Bracing curves over 45 degrees – study results
A 2011 study[2] looked specifically at treating Scoliosis patients who were recommended surgery but declined it. The purpose of the study was to verify if it was possible to achieve improvements of scoliosis of more than 45° through a complete conservative treatment – in most cases, this means a combination of bracing and exercise. Specifically, the methods comprised full-time treatment (23 or 24 hours per day) for 1 year with Risser cast, Lyon, or Sforzesco brace; weaning of 1 to 2 hours every 6 months; with strategies to maximize compliance through the Society on Scoliosis Orthopaedic and Rehabilitation Treatment (SOSORT) management criteria applied and specific scientific exercises approach to scoliosis exercises (SEAS) performed.
Out of 1,148 idiopathic scoliosis (IS) patients at the end of treatment, the sample comprised 28 subjects older than 10 years, still growing, with at least one curve above 45°, who had continually refused fusion. The group comprised 24 females and four males, including 14 in which previous brace treatments had failed; at the start of treatment, the age was 14.2±1.8 years and Cobb degrees in the curve were 49.4° (range, 45°-58°). Subgroups considered were gender, bone age, type of scoliosis, treatment used, and previous failed treatment.
After the course of treatment, two patients (7%) remained above 50° Cobb but six patients (21%) finished between 30° and 35° Cobb and 12 patients (43%) finished between 36° and 40° Cobb. Improvements were therefore found in 71% of patients, with only a single 5° Cobb progression observed in one patient. As such, the conclusion was that bracing can be successfully used in patients who do not want to undergo operations for Scoliosis, with curves ranging between 45° and 60° Cobb, given sufficient clinical expertise to apply good braces and achieve great compliance.
Is bracing always the right choice for larger curves?
Weather bracing is the right choice for any given curve depends very much on the patient – as studies like this show it's certainly possible to achieve great results without undergoing surgery – however, the spine needs to be sufficiently flexible and there needs to be time before skeletal maturity is reached still remaining so that treatment has time to work. A consultation with a Scoliosis specialist is always the best way forward when dealing with a suspected or confirmed Scoliosis case, but today it's certainly true that there are far more tools we can use to prevent and treat Scoliosis than ever before.
[1] Maximum indicated cobb angle for ScoliBrace
[2] Stefano Negrini  1 , Francesco Negrini, Claudia Fusco, Fabio Zaina, Idiopathic scoliosis patients with curves more than 45 Cobb degrees refusing surgery can be effectively treated through bracing with curve improvements Spine J. 2011 May;11(5):369-80.doi: 10.1016/j.spinee.2010.12.001. Epub 2011 Feb 2.