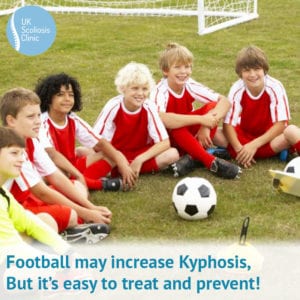 Like Scoliosis, Kyphosis is a common condition which affects the spine. While in scoliosis, the spine is deformed so that It "curves" to the side, in Kyphosis it "bends" further forwards than is ideal. In a normal individual, when the spine and posture are viewed from the side, the ear, shoulder, hip, knee and ankle should all be roughly in alignment, but in Hyperkyphosis sufferer, the head will be noticeable forward and the shoulders hunched.
In a healthy spine, a gentle "s" curve would be visible on an x-ray taken from the side. In the neck (the cervical spine) and lower back (the lumbar spine) these curves have a pattern known as Lordosis, whilst in the mid-back (thoracic spine) the curve is called Kyphosis. Some degree of Kyphosis is completely normal, and required for normal movement – something under 40 degrees is typical. When spinal kyphosis is greater than 45° however, the term "Hyperkyphosis" is used to refer to a spine which is too Kyphotic.
Causes of Hyperkyphosis
The causes of Hyperkyphosis are quite varied and depend on the time in life that they develop.  In adults, Hyperkyphosis is often associated with poor posture but is also sometimes the result of structural factors which involve an alteration to the shape of the thoracic vertebra, causing them to become more wedged.
Wedging of the thoracic vertebra can be caused by congenital vertebra malformations from birth, Scheuermann's disease in adolescence, osteoporotic fractures in adulthood, thoracic compression fractures due to trauma and spinal tumours and infections.
More recent  research has however suggested that participation in some activities during childhood may also raise the risk of increased kyphosis, and the development of Hyperkyphosis. In the same way that some activities seem to raise the risk of Scoliosis.
Does football cause kyphosis?
A 2009 study performed a clinical analysis of 102 males age 11-16 who played competitive football at least two to three times per week – the aim was to determine what, if any difference to the spine this activity caused. [1]
During the study, simple measurements of kyphosis were taken using widely accepted methods, just like we use at the clinic. Interestingly, when researchers compared measurements from their test group to a "normal" sample of 180 boys of the same age range, who did not play football, they found a statistically significant increase in the degree of kyphosis – an average of 36.6 in the footballers, vs 33.6 in the non-footballers. [2]
Does this mean that playing football will give you Hyperkyphosis? Not directly – however it does strongly reinforce the importance of working for good spinal health and getting regularly checked by a spinal health professional. 33.6 degrees is just about within the normal limit – but consider many of these same children will probably experience poor posture as they grow older, and the risk of Hyperkyphosis suddenly looks much greater.
Perhaps the most interesting point, however, is that this study goes against the traditional view of Hyperkyphosis being primarily associated with those of us who spend long hours hunched over at a desk – clearly, even those of us who are more active than average are at risk of Hyperkyphosis. Whereas with many conditions, being active and staying healthy can help reduce risk, this is not necessarily the case with spinal disorders such as Kyphosis and, indeed, Scoliosis.
It wasn't all bad news however – the study investigators also noticed that the footballers showed an overall lower level of low back pain than the non-footballers!
Could I have Hyperkyphosis?
While the symptoms of kyphosis are often considered to be less severe than scoliosis, the condition can have a significant impact on the health of not addressed.
Common signs and symptoms include:
Rounding of the shoulders or a "hunchback" appearance
•       The head is in front of the hips or pelvis when standing
•       Mid-back aching and stiffness that often worsens with standing and eases when laying down
•       Tenderness of the spine and surrounding muscles in the mid-back
•       Tiredness after standing or repetitive bending
•       In more severe cases difficulty breathing may develop as the lungs become compressed and indigestion, heartburn due to stomach compression
How can we treat Hyperkyphosis
Like Scoliosis, treatments for Hyperkyphosis vary depending on the cause In cases where Hyperkyphosis has developed due to poor posture (that is to say, there is no spinal deformity involved) a scheme of specialised exercises and postural correction work will often be successful.
In cases where the underlying cause is Scheuermann's disease (learn more about Scheuermann's here), the  deformity will continue to prefer as the spine grows throughout adolescence – not dissimilarly to the way in which Scoliosis tends to progress. Here, as with Scoliosis, bracing is often the best option, and out Kyphobrace is an excellent choice for this task.
In adult patients who are becoming more hunched forward, a specific spinal rehabilitative programme involving Chiropractic Biophysics can be performed to help strengthen the postural muscles, learn awareness of correct posture and stretch or traction the spine back towards upright posture.
In adults where pain and posture worsen when standing upright, a Kyphobrace worn for periods throughout the day can help to ease discomfort and maintain upright posture, and, combined with corrective training, can eventually remedy the condition.
[1] S Negrini, F Zaina, S Atanasio, C Fusco and M Taiana, Adolescent soccer is correlated with an increase of kyphosis but a reduction of low back pain: a controlled cross-sectional survey Scoliosis20094 (Suppl 2) :O3
[2] S Negrini, F Zaina, S Atanasio, C Fusco and M Taiana, Adolescent soccer is correlated with an increase of kyphosis but a reduction of low back pain: a controlled cross-sectional survey Scoliosis20094 (Suppl 2) :O3