This week, we round out our journey with Patient X – having correctly diagnosed scoliosis and chosen an appropriate treatment methodology, it's now time to explore her progress and eventual results using the Scolibrace system.
5. Treating scoliosis with scolibrace – the results
As you will remember from previous instalments of this series, there are two main categories of scoliosis brace – active correction and "passive" braces. Active correction braces are the type now used by most scoliosis specialist clinics, and have been shown to be highly effective in treating scoliosis.[1] While scolibrace is certainly not the only active correction brace on the market, we firmly believe it is the best available today.
There are two main reasons we believe this – firstly, scolibrace is highly user-friendly. Unlike some braces, scolibrace can be put on and taken off by the wearer without any assistance, it's also easy to secure, requiring just a couple of Velcro straps to hold it in place. Scolibrace also has a low form factor, meaning it can be worn under clothes without being visible in most cases – and a wide variety of colour choices goes to make this even easier. Being made from the latest materials, and fabricated using CAD/CAM technology scolibrace is also lightweight and so easy to move in that many wearers even leave their brace on to participate in sports activities. Taken as a whole this makes life during bracing very much more comfortable (and far preferable to surgery!).
Perhaps more important in the long term, however, are scolibrace's results. In the case of patient X (who began treatment with a 33-degree Cobb angle), a one-month in-brace x-ray showed that the curve had reduced to 13 degrees. At the 3 month out of brace x-ray, the curve had reduced to 26 degrees. In just three months the out of brace curve had reduced by 7 degrees.
At this point, the flexibility of the scolibrace design was once again important since, where other systems may require a whole new brace, scolibrace allows extra corrective padding to easily be added to the brace to increase the 3-dimensional corrective action and keep up the progress. At the 12-month mark, an out-of-brace x-ray was taken – The results of which showed that the spine was down to just 11 degrees without using the brace – a reduction of 22 degrees which brought patient X within one degree of "normal" measurement.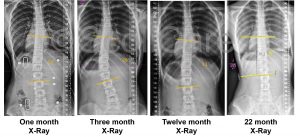 The final x-ray for patient X was taken 22 months after the start of treatment after a period of weaning off the brace. This x-ray was an out-of-brace x-ray where the patient was required to be out of the brace for at least 6 hours. The results of the final X-ray showed her spine to have a 6-degree curvature, which according to definition (greater then 10 degrees cobb) cannot be classified as a scoliosis.
The combination with scoliosis specific exercise assisted in speeding the correction of the Cobb angle[2], but also made a substantial contribution to the overall postural correction which scoliosis treatment also provides. Postural assessments showed continuous improvement of her posture with her body showing good balance after 4 months of treatment, with improvements continuing so that she was visually symmetrical by the 12-month mark. The postural improvements were then maintained throughout the treatment period.
One potential risk of scoliosis bracing which has been highlighted is the potential for loss of mobility or deterioration of fitness, however the incorporation of exercises in the program also assisted in this regard[3], such that a functional assessment of fatigue ability and strength of her core muscles, together with the flexibility of her spine showed no deterioration of strength, endurance or flexibility at the end of treatment.
6. After scoliosis
After just 22 months of treatment, patient X no longer suffered from scoliosis – an unmitigated success for scolibrace, but what about in the future, could scoliosis reoccur?
While a patient is continuing to grow, there is always the chance that scoliosis could begin to develop again – scoliosis patients should, therefore, be monitored until they have reached adulthood and their skeleton has finished growth. Having said this, recent research has indicated that continuing with some targeted scoliosis specific exercises after bracing can be effective in preventing any loss of correction[4].
So what now for patient X? Having completed her treatment and with a handful of ongoing exercise to keep her on track she's free to get on with the rest of her life, scoliosis free!
Could ScoliBrace be right for you?
We hope that this series of articles has been informative and has given you an outline as to the path that a typical non-surgical scoliosis treatment can take. If you have concerns about scoliosis, or would like to find out if ScoliBrace might be right for you, why not get in touch today, and arrange a one to one consultation with our specialists.
[1] 'Brace treatment in juvenile idiopathic scoliosis: a prospective study in accordance with the SRS criteria for bracing studies – SOSORT award 2013 winner'
Angelo G Aulisa, Vincenzo Guzzanti, Emanuele Marzetti,Marco Giordano, Francesco Falciglia and Lorenzo Aulisa, Scoliosis 2014 9:3 DOI: 10.1186/1748-7161-9-3
[2] Negrini S, Negrini A, Romano M, Verzini N, Parzini S: A controlled prospective study on the efficacy of SEAS.02 exercises in preparation to bracing for idiopathic scoliosis. Stud Health Technol Inform 2006, 123:519-522.
[3] Negrini S, Aulisa L, Ferraro C, Fraschini P, Masiero S, Simonazzi P, Tedeschi C, Venturin A: Italian guidelines on rehabilitation treatment of adolescents with scoliosis or other spinal deformities. Eura Medicophys 2005, 41(2):183-201
[4] Fabio Zaina et al. Specific exercises performed in the period of brace weaning can avoid loss of correction in Adolescent Idiopathic Scoliosis (AIS) patients: Winner of SOSORT's 2008 Award for Best Clinical Paper,  Scoliosis 2009, 4:8